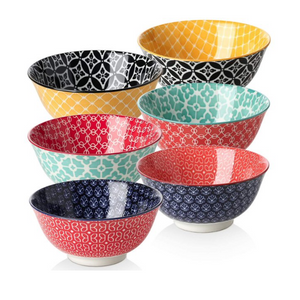 These cereal bowls will wake up your snack routine with their bold colors! Give your granola routine a little attitude adjustment with a beautifully patterned bowl, befitting a solid breakfast or late afternoon snack.
Material: These bowls are made of ceramic and are microwave, dishwasher, oven and refrigerator safe.
Dimensions: The dimensions of these bowls are: 6 x 6 x 2.75 inches
Volume/Capacity: Each bowl can hold up to 23 fluid ounces.

Bowls are sold individually.